Lever Hoist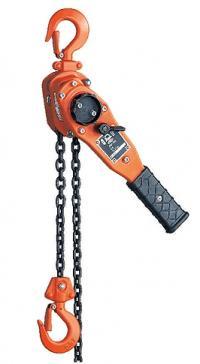 Lever Hoist
1. Steel formed cases
Both gear and hand chain wheel are protected by Hydraulic drew cases which is ideally shaped and rugged to be able to withstand external shocks
2. Bushing
Bushing finished by surface hardened treatment and polish procedure serves to increase the mechanical efficiency and reduce the hand chain pull force.
3. Load Chain
Applying grade 80 alloy chain specially calibrates for manual hoists and conforms to ISO and DIN standard.
4. Chain Stopper
Work as the lower limit to prevent over traveling during lowering the load.
5. Load Chain Guide
Ensure the load chain proper fitting the load sheave during operation and protect the load sheave from wet and dirt.
6. Hand Wheel
Allow an efficient chain length adjustment by switching the direction switch to "free" mold and rotating the hand wheel.
7. Brake Mechanism
No matter how heavy the load, the brake works instantly when operation stopped; the lining material is non-asbestos with long life time.
8. Duel Ratchet Pawls
Dual ratchet pawls are applied for extra safety purpose. In case on ratchet pawl fails, the other still maintains its mechanical brake function.
9. Upper & Lower Hooks
Hooks with ho forged and heat treatment allow to be swiveled 360° and are equipped with safety latch to ensure proper hooking the load.
See more complete detail
Model
Capacity (ton)
Lift (m)
Load Chain
Headroom H (mm)
Length of operating handle N (mm)
Pull on lever to lift full load (kgf)
Test load (ton)
N.W. (kg)
Dimensions (mm)
Dia x pitch (mm)
No. of falls
A
B
C
D
E
F
G
YL-030
0.3
1
4.0x12
1
235
155
30
0.38
2.1
29
48
23
72
23
31
43
YL-050
0.5
1.5
5.0x15
1
275
265
35
0.63
3.9
32
62
26
88
28
35
51
YL-080
0.8
1.5
5.6x17
1
290
265
25
1
6.1
41
80
55
100
28
35
51
YL-100
1.0
1.5
6.3x19
1
325
265
30
1.25
7.0
41
80
55
100
36
43
53
YL-160
1.6
1.5
7.1x21
1
370
400
30
2
10.7
47
103
65
99
38
48
62
YL-300 /320
3.0 /3.2
1.5
9.0x27
1
470
416
36
4
16.2
55
120
81
104
50
60
69
YL-600
6.0
1.5
9.0x27
2
620
416
38
7.5
31
62
164
81
104
50
63
172
YL-900
9.0
1.5
9.0x27
3
830
416
39
11.25
55
126
219
81
104
65
85
166