High Speed Type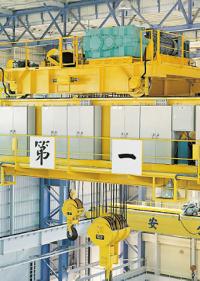 High Speed Type
1. Hoisting Motor-
Highly efficiently squirrel cage motors which especially designed for hoist are applied and comply with IEC specification with Isolation F degree and start Torque over 200%.
2. Dual DC brake
Use electromagnetic disc type brake of Lenze, the biggest supplier in German, to perform the brake torque over 250% with durable wear-resisting, long lifespan, rapid reaction, low noise and convenient for maintenance .
3. Gear Box-
Apply alloy steel as base materials of gears with hardness higher than HRC 50 degree and oil bath lubrication of gears for long lifespan.
4. Drum- made by qualified high strength steel.
5. Limit switch-
Apply principle of screw rotation to set up/ down limit and terminal limit to avoid crab damage for wrong direction.
6. Relay Box-
Control panel set on the walkway, only relay box left on the crab.
7. Wire rope loose prevention
Prevent wire rope loose and out of grooves.
8. Hollow shaft drive of traversing-
Integrated motor, brake and gear box for easy fabrication and maintenance.
9. Wire rope-
Safety factor of wire rope complies with FEM requirements. Dual rope designs for bottom hook stable and easy hanging.
10. Bottom hook set-
Hooks are made by forged steel with proper diameter of reeving wheel to ensure life span of wire rope.
11. Optional function-
Anti-sway for traversing and travelling corrects swing motion during operation.