Electric Wire Rope Hoist(USA)-Top Running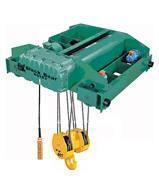 SU
1. Mechanical load brake
The advanced design of the mechanical load brake provides braking without hook drift, independent of the motor brake.
2. Wire rope
Height strength 19x7 IWSC (195kg/mm2) wire rope has swaged fittings on both ends.
3. Push button station
(USA) IP-65 Push Button Station is standard and it's light weight and durable.
4. Motor Brake
Our AC or DC Brake provides instant braking, with smooth, controlled starting and stopping.
5. Motor
Hoist duty motors are made of heavy cast iron that provide maximum cooling during even the toughest operating conditions. The class F motor insulation (single speed) are rated for H4 service. Other insulation classes and thermal rating are available upon request
6. Lift
True vertical lift standard on low headroom hoists.
7. Hook
Our high strength forged steel hook come equipped with a safeth latch and a thrust bearing which enables the hook to swivel 360 degrees.
See more complete detail
Model
Capacity (ton)
Lift (ft)
Hoisting
Traversing
Wire Rope
Reeving type
Speed (m/min)
Motor HP
Motor RPM
Speed (m/min)
Motor HP
Motor RPM
60Hz
60Hz
mm
SUGI-2500
25 ton 55000 lbs
20
13.2
30
1800
59
2
1800
18
3PD
30
SUGID-2500
13.2/4.4
30/10
1800/600
59/20
2/0.6
1800/600
40
SUGI-3000
30 ton 66000 lbs
20
13.2
40
1800
59
3
1800
20
3PD
30
SUGID-3000
13.2/4.4
40/13.4
1800/600
59/20
3/1
1800/600
40
SUGJ-4000
40 ton 88000 lbs
30
9.9
40
1800
59
3
1800
20
4PD
40
SUGJD-4000
9.9/3.3
40/13.4
1800/600
59/20
3/1
1800/600
50
SUGK-5000
50ton 110000lbs
30
7.9
40
1800
59
3
1800
20
5PD
40
SUGKD-5000
7.6/2.6
40/13.4
1800/600
59/20
3/1
1800/600
50
Model
Approximate Dimension (mm)
Approximate Weight (lbs)
A
B
C
Di
Do
E
F
G
H
J
K
L
M
N
P
R
S
T
U
V
W
X
(S)
(D)
SUGI-2500
83.2
65.8
90.6
11.8
17.5
30.7
10.0
10.0
50.6
3.0
3.2
40.4
51.3
59.3
110.6
10.4
27.2
39.3
40.2
7.9
52.3
45.3
12360
SUGID-2500
90.6
40.4
51.3
59.3
110.6
45.3
12360
102.4
46.3
57.2
65.2
122.4
51.2
13430
SUGI-3000
86.5
66.5
90.6
15.8
17.5
31.7
10.0
10.0
50.6
3.0
3.2
40.4
51.3
59.3
110.6
10.4
27.2
39.3
40.2
7.9
52.3
45.3
12360
SUGID-3000
90.6
40.4
51.3
59.3
110.6
45.3
12360
102.4
46.3
57.2
65.2
122.4
51.2
13430
SUGJ-4000
86.5
66.5
90.6
15.8
17.5
31.7
10.0
10.0
59.0
3.0
3.2
40.4
51.3
59.3
110.6
10.4
22.1
44.4
35.1
7.9
57.4
45.3
12810
SUGJD-4000
110.2
50.2
61.1
69.2
130.3
55.1
13880
126.0
58.1
69.0
77.0
146.0
63.0
14750
SUGK-5000
94.5
70.5
110.2
19.7
21.3
33.7
12.0
12.0
69.7
3.2
3.2
50.2
61.1
68.2
129.3
12.4
27.8
42.7
43.0
9.9
57.9
55.1
14240
14390
SUGKD-5000
126.0
58.1
69.0
76.1
145.1
63.0
15110
15260
146.5
68.3
79.2
86.3
165.5
73.3
15980
16130