Chain Hoist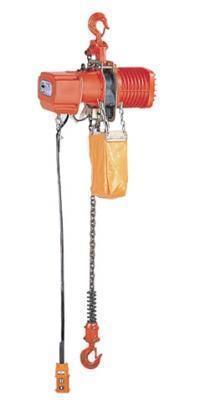 Chain Hoist - ECH Series
Product ID: ECH Series
The chain hoist is manufactured with motor housing, which is made of aluminum alloy casting that features rigid structure and light weight. The motor is framed with radiant cooling fins, which permits 40% (dual speed 40/20%, YSF-series 15%) duty cycle. As for the hoist motor brake, we develop an advanced element called "Electro-Magnetic Brake Controller"; it's a unique design in its field, R.O.C. Patent No. 27417 features simultaneous braking upon release of P.B. even under full load.

The limit switch of the chain hoist is fitted at both top and button ends shuts off power automatically to prevent load chain from running out. The load chain is made of grade 80 case hardened alloy steel. On the other hand, we adopt hot forged high tensile steel to make its hook. Hence, the hook is rigid and durable with 360 swivels, fitting with safety latch to assure safe lifting. In a nutshell, with all these strengths, using our hoist can definitely improve your efficiency!
The bracket is made of double high-tensile alloy steel plate, featuring rugged and durable construction. The mechanical brake is designed advanced that assures secure braking even under overload. In conjunction with motor brake, features "DOUBLE BRAKE SYSTEM" for safety and durability in hoist operation. Our hoist factories spare no expense in maintaining the quality assurance, increasing manufacturing efficiency, spending huge sums of money to import advanced manufacturing equipment and insisting on equipments first and quality first.
Features:


Transformer

Power to pendant control reduced to 24V or 48V for safer operation.

Magnetic Contactor

High performance non-fuse circuit breakers allow frequent trouble cycling with free operation.

Phase Error Relay

A specially designed electric board for chain hoist prevents motor from running at it reverse phased.

Push Button Pendant

Offers light and durable switching controls.
For special applications, please contact our company representative or authorized distributor.
See more complete detail
Capacity (ton)
0.5
1
2
0.5
1
2
0.5
1
2
3
2
2.5
3
5
7.5
10
15
20
30
Life Height (m)
3 (6) etc.
Load Chain (mm)
Ф7.1
Ф7.1
Ф7.1
Ф10
Ф11.2
Ф10
Ф11.2
Single Speed (m/min)
50Hz
YSF
5.6
3.9
2.0
6.7
4.7
2.3
-
-
-
-
-
-
-
-
-
-
-
-
-
YSL
-
-
-
-
-
-
6.7
4.7
2.3
1.5
-
-
-
-
-
-
-
-
-
YSH
-
-
-
-
-
-
(9.2)
(6.7)
3.3
2.2
-
-
-
-
-
-
-
-
-
YSS
-
-
-
-
-
-
-
-
-
-
6.6
5.2
4.3
2.6
1.8
2.6
(1.8)
1.3
0.9
60Hz
YSF
6.7
4.7
2.3
8.0
5.6
2.8
-
-
-
-
-
-
-
-
-
-
-
-
-
YSL
-
-
-
-
-
-
8.0
5.6
2.8
1.8
-
-
-
-
-
-
-
-
-
YSH
-
-
-
-
-
-
(11.0)
(8.0)
4.0
2.6
-
-
-
-
-
-
-
-
-
YSS
-
-
-
-
-
-
-
-
-
-
7.9
6.4
5.2
3.2
2.1
3.2
(2.1)
1.5
1.1
Dual Speed (m/min)
50Hz
YSLD
-
-
-
-
-
-
(6.7/2.2)
(4.7/1.6)
2.3/0.8
1.5/0.5
-
-
-
-
-
-
-
-
-
YSHD
-
-
-
-
-
-
(9.2/3.1)
(6.7/2.2)
3.3/1.1
2.2/0.7
-
-
-
-
-
-
-
-
-
YSSD
-
-
-
-
-
-
-
-
-
-
6.6/2.2
5.2/1.7
4.3/1.4
2.6/0.9
1.8/0.6
2.6/0.9
1.8/0.6
1.3/0.43
0.9/0.3
60Hz
YSLD
-
-
-
-
-
-
(8.0/2.7)
(5.6/1.8)
2.8/1.0
1.8/0.6
-
-
-
-
-
-
-
-
-
YSHD
-
-
-
-
-
-
(11.0/3.7)
(8.0/2.7)
4.0/1.3
2.6/0.9
-
-
-
-
-
-
-
-
-
YSSD
-
-
-
-
-
-
-
-
-
-
7.9/2.6
6.4/2.0
5.2/1.7
3.2/1.0
2.1/0.7
3.2/1.0
2.1/0.7
1.5/0.5
1.1/0.4
Motor Power (kw)
1.8
1.8
1.5(1.8)
1.8
3.7
3.7X2
5.0X2
Motor Power (kw)
-
-
1.8/0.6
3.7/1.2
3.7/1.2X2
5.0/1.7X2
Power Supply
Single Phase 110V, 115V
Single Phase 220V, 230V
3 Phase, 220V- 600V
3 Phase, 220V- 600V
E.D. Rating (%)
15
15
40
40
Load Chain FallNumber
1
2
1
2
1
2
3
1
2
3
4
6
8
12
N.W./G.W. (kg)
55/58.5
64.5/67
55/58.5
65/67
50.5/53
61/64
73/96
125/155
130/160
140/170
153/183
195/230
410/470
510/580
890/990
1035/1135
Packing LXWXH (cm)
60X57X33
60X57X33
60X57X33
62X52X50
73X57X51
73X70X70
86X80X75
140X85X97
170X105X167
175X110X185
Capacity (ton)
Model
Dimensions (mm)
H
A
B
C
D
E
F
I
J
K
L
M
N
0.5
YSL, H, E, F-050
595
E560
505
F548
LD548
HD548
245
F288
LD288
HD288
260
240
115
125
40
28
40
25
23
23
1
YSL, H, E, F-100
595
E560
505
F548
LD548
HD548
245
F288
LD288
HD288
260
240
115
125
40
28
40
25
23
23
2
YSL, H, E, F-200
745
E710
505
F548
LD548
HD548
245
F288
LD288
HD288
260
280
175
65
46
36
46
36
31
31
3
YSL, H-300
880
-
640
-
LD548
HD548
245
-
LD288
HD288
260
280
175
105
52
43
52
43
34
34
2
YSS-200
835
-
640
-
-
SD650
326
-
-
SD336
314
448
278
170
52
43
52
43
34
34
2.5
YSS-250
880
-
640
-
-
SD650
326
-
-
SD336
314
448
278
170
52
43
52
43
34
34
3
YSS-300
960
-
640
-
-
SD650
326
-
-
SD336
314
448
340
108
52
43
52
43
34
34
5
YSS-500
1030
-
640
-
-
SD689
326
-
-
SD375
314
448
356
92
62
45
62
45
45
45
7.5
YSS-750
1150
-
640
-
-
SD689
326
-
-
SD375
314
587
388
199
72
40
75
57
84
48
10
YSS-1000
1270
-
640
-
-
SD689
326
-
-
SD375
314
970
485
485
72
40
100
68
92
60
15
YSS-1500
1365
-
679
-
-
SD724
365
-
-
SD410
314
1360
680
680
80
40
120
90
169
85
20
YSS-2000
1950
-
866
-
-
SD866
433
-
-
SD433
433
1472
736
736
82
82
140
95
164
95
30
YSS-3000
2000
-
924
-
-
SD924
462
-
-
SD462
462
1472
736
736
92
92
140
95
221
95
Order Information:
Minimum Order: Negotiable
Branded Product