Concert Hoist Series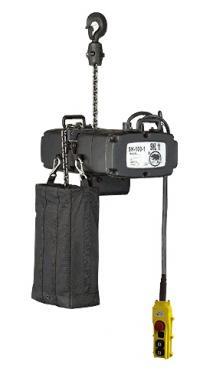 Concert Hoist Series
Overload Protection
A slip clutch prevents the damage due to overloading.
Motor and Brake (Optional function)
Cooling fins around motor permits 40% duty cycle.
Standard IP54 enclosure; motor winding with class F insulation and thermal protection.
Brake automatically engages in the event of a power failure.
Long life asbestos free brake material.
Magnetic Contactor
High performance non-fuse circuit breakers.
Rotatable electric bracket assembly for easy maintenance and inspection.
Limit Switch
Upper and lower electrical limit switch.
See more complete detail
Capacity (kg)
Model
Speed (m/min)
Fall No.
Load Chain (Dia x Pitch) (mm)
Motor (kw x pole)
Weight of hoist (kg)
Dimension (mm)
A
B
C
D
F
H
I
J
M
250
SH-025-1
4.0
1
4 x 12
0.25 x 4
28
410
135
18
205
175
28
165
85
25
500
SH-050-1
4.0
1
6.3 x 19.1
0.4 x 4
42
520
156
23
297
221
33
185
105
30
1000
SH-100-1
4.0
1
7.1 x 20.2
0.75 x 4
54
650
170
23
275
240
33
205
135
30
2000
SH-200-1
4.0
2
7.1 x 20.2
1.5 x 2
62
700
170
27
275
240
39
170
170
30